July Fourth was not only Independence Day, but it also marked the one-year anniversary of deciding to go to Disney World! Best decision I've made in a really long time. To commemorate it, I wanted to bake something to take to work. So last weekend I spent some time looking through Disney recipes. My initial idea was to make
Magic Cookie Bars
. But, I've never actually eaten one of them at Disney World! My mom makes them for Christmas every year, but I wanted something Disney-related that I've actually had AT Disney.
Then I remembered seeing a bunch of recipes for the Grey Stuff. If you don't have any idea what I'm talking about, you probably haven't been to Disney World in the last year or so! One of the highlights of the New Fantasyland expansion includes a restaurant called "Be Our Guest" and it is amazingly Beauty and the Beast themed. And one of the desserts they offer is called "The Grey Stuff"... as in Lumière's line from the song "Be Our Guest" -- Try the grey stuff, it's delicious! Don't believe me? Ask the dishes!
Now, I would never have expected the grey stuff to be a dessert. But I'm really glad it is! It's had several different incarnations since the restaurant opened and this is a picture of what I had when I was there in February: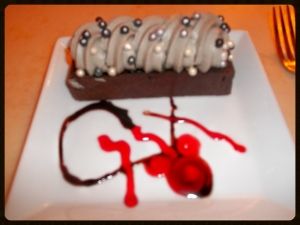 The description was: Chocolate Shell, Cookie Crème topped with Lumiere's special "Grey Stuff".
The grey stuff itself is kind of a mousse-y type thing and I would describe the cookie crème as being sort of like the inside of a truffle? Maybe? All of the recipes I've found online are ONLY for the grey stuff. I didn't know how my coworkers would feel about just eating a bowl of that, although I highly recommend it! Haha.
So I decided to experiment a little bit. And while my version is NOT a replica of what I had at Be Our Guest in February, everyone loved it! I decided to make a cookie crust, bake brownies on top, and then frost them with the grey stuff! And I really wanted to include those edible pearls! Unfortunately, Target didn't HAVE edible pearls. But I actually LOVE what I was able to find instead!
Here's what I came up with. I used a brownie mix, but you can obviously be ambitious and make your own. I wasn't too concerned with that part of the experiment. I used almost the exact recipe for the grey stuff as the link above. But because I was using the Oreos for two different things, the measurements are probably a little off, so I'll include mine here. I also used skim milk and it turned out fine. I sort of used this recipe for Oreo Crusted Brownie Pie as the starting point for my cookie crust, but I was using a 9x13 pan and not a pie pan. (That recipe looks delicious as well, by the way!)
1 package of regular-stuff Oreos
6 tablespoons butter, melted
Packaged brownie mix (9 x 13 size pan)*
1 (3.4 ounce) package instant vanilla pudding mix
1 1/2 cups milk
1 (8 ounce) tub Cool Whip
6 tablespoons instant chocolate pudding mix (use the leftovers to sprinkle on ice cream!)
Edible pearl sprinkles
* You will also need whatever ingredients are listed on the brownie box
Preheat your oven to 350º.
Spray or grease the bottom of a 9x13 cake pan.
Crush the Oreos in a food processor until they are very fine, almost like sand. If you happen to eat a couple beforehand, it will still turn out fine. I think I ate three cookies and crushed the rest! Ha. Reserve two cups of the crushed cookies and mix the rest with the melted butter. Press into the bottom of the pan. Bake for five minutes. Remove from oven.
Prepare the brownies according to the package directions. Pour over the cookie crust and bake according to the package directions.
Mix the vanilla pudding and the milk together in a large bowl. Set in the refrigerator, about eight to ten minutes.
Remove from the refrigerator and mix in the reserved cookie crumbs. Fold in the Cool Whip. Mix in the chocolate pudding and stir well. Let chill in the refrigerator for about an hour or so.
Frost the brownies with the grey stuff and sprinkle with the edible pearls.
This is what I found at Target instead of the edible pearls!!!

Tell me those don't look like snowflakes?! As in... Frozen! So yay! My Beauty and the Beast inspired dessert also has a touch of Elsa in it. What more could anyone ask for?!