If you're a Disney lover like me, you probably have some Disney books. History books, guidebooks, biographies of Walt Disney, cookbooks... I have all of these.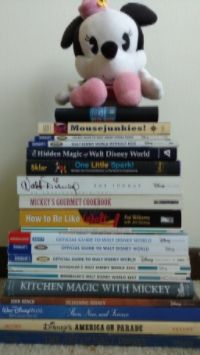 Not a huge collection compared to what some people may have, but a nice mix of Disneyana. My most recent book purchase is a cookbook,
Kitchen Magic with Mickey
that I got when I was in the Most Magical Place on Earth in April. It's my second Disney cookbook... the first one I bought is called
Mickey's Gourmet Cookbook
and I bought it for a dollar at a garage sale!
I'll feature each of my books at some point, but today I'm sharing one of the two oldest books in my collection. Both The Art of Walt Disney (the book on the very bottom of my stack; not sure why the photo is so blurry) and America on Parade have a copyright date of 1975 and, if my mom's memory is correct, these books were purchased by her mom for me from the Jewel Tea Man.
Now, I'm fairly certain that anyone reading this will have zero idea what I'm talking about, so here's a quick history lesson. Jewel Tea was a national company that went door to door selling all kinds of household items. Ironically, my research indicates that it started out as a individual who went door to door selling... wait for it... coffee beans! If you know someone who has the "autumn leaf" pattern of dinnerware, this originated with Jewel Tea. My mom and grandma had a lot of these items, and my mom generally would just say she got them from "the tea man".
So, back to Disney. I've loved Disney all my life and apparently I respected the main man himself so much that I referred to him as "Mr. Walter Disney". Because why wouldn't a child say that?! But, that's why my grandma bought me these books. With it being Fourth of July weekend (sort of, anyway... I still have to work tomorrow!) I thought it would be fun to talk about the America on Parade book.
To celebrate the bicentennial in 1976, Disney came up with the idea of this spectacular parade that was a celebration of our history. The parade was called, obviously, "America on Parade" and ran in both Disneyland and Walt Disney World.
According to the book, the parade consisted "of fifty units depicting milestones and important institutions in American history...". During the summer, the parade was held twice a day. The second showing was at night and concluded with fireworks.
It took almost a year to gather all the research necessary to put on such a huge parade. It was three quarters of a mile in length and lasted almost half an hour from start to finish. The parade featured giant doll-like characters, representing the people of the US. Part of the research involved making sure the costumes the dolls wore were historically accurate.
The cool thing about this book is that it's basically a history book. It tells the history that is depicted in the parade and includes illustrations and photos made by Walt Disney Productions as part of the parade planning. It also includes several pullout sections of photos that were taken during the opening week of the parade in June 1975. The pullout sections show Main Street USA, lined with people, watching the parade.
I love that I have this book in my collection. More than forty years later it's not only a US history book, but it's now also part of Disney's history!
On a side note, as I was pulling all of my books together I also flipped open a couple of my old Disney magazines and came across this gem from 1998. Further proof that nobody throws a birthday party like Disney! I tried googling to see which hometowns were picked, and the only I'm able to find was Sheboygan, Wisconsin (who doesn't like saying "Sheboygan"?!)
I hope everyone in the US has a fantastic Independence Day and that my Canadian friends enjoyed celebrating Canada's Sesquicentennial! And, if by some miracle, someone is reading this outside of either of those countries, I hope you have a magical day!