This is what I see when I look out my window.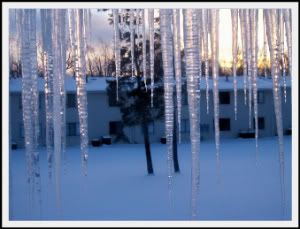 I'm one of the six people in Buffalo who love this weather. Ha.

Here is the main dish I served at my Christmas gathering. It's a winning recipe from Taste of Home magazine's October/November 2009 issue. I didn't change a thing... it was perfect as is!!
16-oz pkg penne pasta
1 lb boneless skinless chicken, cut into 1/2-in pieces
1 Tbsp olive oil
1 large garlic clove, minced
1/4 cup white wine
1 cup heavy whipping cream
1/4 cup chicken broth
8-oz crumbled Gorgonzola cheese
6 to 8 sage leaves, thinly sliced
salt and pepper to taste
grated Parmigiano-Reggiano cheese
minced fresh parsley
Cook pasta according to package directions.
Meanwhile, in a large skillet over medium heat, brown chicken in olive oil on all sides. Add garlic; cook one minute longer. Add wine, stirring to loosen browned bits from pan.
Add cream and broth; cook until sauce is slightly thickened and chicken is no longer pink. Stir in Gorgonzola, sage, salt, and pepper. Cook just until cheese is melted.
Drain pasta. Toss with sauce. Sprinke with Parm-Reg and parsley.