Have I mentioned that I love food?? And the Food Network?
When I visited my family in San Antonio back in October, one of the things I really wanted to do was go to a restaurant that had been featured on Diners, Drive-Ins and Dives. I find this niftly little app/website called TV Food Maps that lets you search by foodie show, location, etc.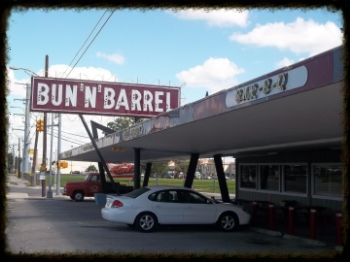 I found a barbecue place called Bun'n'Barrel and luckily my brother was able to figure out how to get there; driving aimlessly around a city I had just been robbed in didn't sound like fun to me*. We stopped for lunch on our way back from a visit to the San Antonio Zoo. I had a melt-in-your-mouth brisket sandwich and some deliciously crispy onion rings. We also tried their "Thai Spicy BBQ Sauce" which had a great flavor and packed quite a bit of heat. I was able to bring home one of their take-out menus as a souvenir, which made me happier than necessary. Although we didn't do this, you could park your car and have the waitress bring your food out to you like the old-fashioned car hops used to do. I'm happy to say that I'm too young to remember such things and that Happy Days is my only point of reference to this. Of course, that does make me old enough to actually remember Happy Days...
(*That's right... less than an hour after landing in San Antonio, our cars were broken into. I had almost $500 worth of stuff stolen. Welcome to Texas.)
Just last week, I got a nice surprise when some friends decided to go out to dinner after work. Now, Western New York is a fairly large area and I admittedly am only familiar with my little neck of the woods. So when the suggestion was made to go to a burger place in the opposite direction of where I live, I can honestly say that it wouldn't have been my first choice. I'm not generally a burger person and I couldn't pass for someone who enjoys driving if my life depended on it. The fact that I misunerstood the ridiculously easy directions didn't help.
Grovers Bar and Grill does not have it's own website, but it's received some pretty good reviews on yelp and it was named "Best Burger" in the Best of Buffalo Poll done by Artvoice. According to my internet research, the restaurant sits on Grover Cleveland's old hunting camp.
So, we're sitting in our little booth looking at the menu and the first thing I noticed was the words "cheeseburger soup". My friends had been here before, and one of them told me it was good so I immediately knew I'd be ordering that. It was SO good and reminded me of my sister's sausage dip recipe, which I will be sharing below. I decided to forego an actual burger and ordered a grilled ham and cheese on rye. Common, but delicious. And HUGE. I wound up taking half of it home with me.
It wasn't until we had already been served that one of my friends mentioned that it had been on DDD. And that's when I noticed that we were sitting directly under the "Guy Ate Here" sign! So, I guess the lesson is that driving half an hour out of the way can produce some delicious results.
And since we're on the subject, Food Network Star (Guy Fieri's launching pad!) starts tonight. And just this morning, less than ten hours before the new season starts, I found out that one of the contestants is a former Buffalonian! Her name is Nikki Dinki and you can check out her blog right here!
Super-Easy Sausage Dip

16 ounces Velveeta
Bulk pork sausage
jar of salsa
Cube the Velveeta and throw it in the crockpot on low to start melting. Brown the pork sausage. Drain. Add the sausage and salsa to the crockpot. Heat on low until melted. Serve with tortilla chips.