I saw a poster on
Pinterest
the other day that said "some people are so poor that all they have is money". It's a sentiment I whole-heartedly agree with. If you don't have the happiness deep within your being already, money and things aren't going to make it magically appear. If you aren't already happy, you can't whip out the credit card and buy it. But I think simple pleasures can increase your happiness. And if you're sad (which I don't think is the opposite of happy; unhappy is the opposite of happy), buying something you'd like to see, eat, play with, wear, etc can perk you up.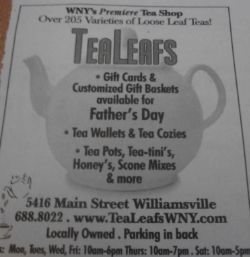 We have a local newspaper here called Artvoice. It's a free weekly paper and it's a mix of local events, restaurants, and other random Buffalosity with a substantial dose of political talk thrown in. I tend to skip right over the politics and read about the local events that are going on. I generally don't actually participate in these events, mind you. But it's nice to have options. As I was skimming through a copy the other day, I almost missed this awesome little ad.
Obviously, I wanted to go ASAP. I figured it would be a good weekend excursion. Williamsville is a little suburb about twenty minutes from me. I had been there before when I was volunteering for the Make-a-Wish Foundation, but never really WENT there... never just parked the car and walked up and down Main Street. I have absolutely no idea why. I honestly had no plans of doing that today, either. Until I got there.
What a beautiful town. I can't wait to back. There was even a farmer's market on one of the side streets and the place is simply charming. My kind of town. I was almost giddy to discover that there is a Ten Thousand Villages right there in the middle of Main Street. I discovered this awesome little fair trade store when I was in Niagara-on-the-Lake last year and it will come in very handy at Christmas time! Apparently I need to get out more. Who knows what else I'm missing out on?!
TeaLefs is just the cutest little shop. There is a wall with cute little clocks that the owner refers to as her "Happy Wall", which just makes me smile. There are boxed teas, tea pots, and over 200 loose teas that you can sniff to your heart's content. I usually prefer loose tea to bagged, but bagged tea is just so convenient. The best part for me was that you can actually buy a single ounce, which is something I wish Teavana would allow. There was a hot and an iced tea available to sample and I tried the iced Atlantico Lime, which was very refreshing. TeaLeafs also offers a punch card, so of course I'll have to go back. Even the logo is adorable.
At some point during the past week when I was making my plans to visit this new little gem, the lightbulb went off. I remembered that the olive oil store has a location right near there. Turns out the tea store and the olive oil store are right across the street from each other. Now, for those who are scratching your head and thinking "huh?!", olive oil stores are a glorious thing. We actually have two different companies in Western New York: D'Avolio and Prima Oliva. I've been to both; they're very similar and I honestly don't have a preference. You walk in and there are these vats (for lack of a better word) with all these different olive oils and balsamic vinegars... and on the counters are containers with little cubed pieces of bread. And you walk around and sample the oils and vinegars using the bread and at some point you think you are in heaven. The alcohol drinkers can keep their wine-tastings. Give me an olive oil tasting and you'll be my best friend.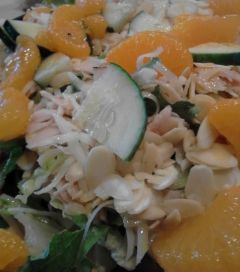 Today, I went to D'Avolio. They have several locations throughout WNY (as does Prima Oliva) and this particular location also happens to have a little kitchen. They serve lunch every day and you have your choice of salad, sandwich, pizza, or soup and you have options for each. I created a salad with turkey, almonds, cucumbers, mandarin oranges, and manchego cheese. They had several olive oil and vinegar pairings to choose from and I went with the Blood Orange-infused olive oil and Sicilian Lemon white balsamic vinegar. Delicious. It wasn't until I got home that I remembered that I wanted to pick out a nice citrusy olive oil to use in one of the numerous olive oil cake recipes I've seen on Pinterest. Guess I'll have to go back. What a shame.
Look at all the {happiness} I bought!:

Grapefruit Balsamic Vinegar, which will go great with salads
Chocolate Mint bagged tea (I love those little wooden tea boxes)
Creme Au Caramel Rooibos
Cinnamon green tea
Lemon Shortbread Cookies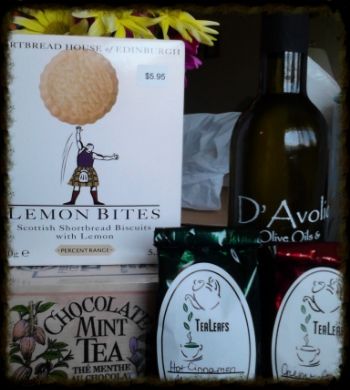 {The most important thing is to enjoy your life... to be happy... it's all that matters}
Audrey Hepburn