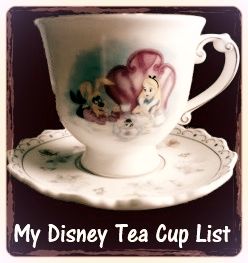 Christmas at Disney
Six months from today is CHRISTMAS EVE!!!!!! I love doing the Christmas countdown on the 24th and 25th of every month, much to the annoyance of just about everyone I know. I love Christmas and I can't even imagine what it would be like to spend some quality time in Disney over the Christmas holiday. So in honor of the countdown, today's Teacup Tuesday will focus on Christmas at Disney!
I've seen so many trip reports where fellow Disney enthusiasts share pictures of the Osborne lights at Disney's Hollywood Studios and numerous character photos of the gang all decked out in their Christmas finery. And Mickey's Very Merry Christmas Party. And the decorations. And the decorations. And did I mention the decorations?? *grin* People decorate their resort rooms for Christmas and I think I've seen pictures of little Christmas trees in the rooms.
I think the #1 thing on this list however would be the amazing gingerbread house that is created in the Grand Floridian hotel. I so desperately want to be able to see that!
How incredibly amazing would it be to spend part of Christmas in the most magical place on earth??? I need to find a way to make this happen!