Last night was one of my favorite days of the year -- Star Wars Night at the ballpark! My Buffalo Bisons have been doing this for the past seven years and each year it gets better and better. It actually started out as one of several "movie" nights that the team hosted and the popularity has increased exponentially and the last two years (possibly more) have sold out before game day!
I went a couple times with my mom and the last three years I've gone with friends. The gates always open early because the North Ridge Star Wars fan club are there in character. There is an assortment of original trilogy, prequel trilogy and expanded universe characters as well as characters unique to this chapter of the fan club. They will pose for pictures and last year I got a great picture with me and my friend's daughter hanging out with Chewbacca and R2D2. Unfortunately, the lines were SO LONG this year that we didn't get any character pictures. Moving through the concourse was extremely difficult because of the sheer number of people milling about.
The players wear special Star Wars jerseys each year that are then autographed and raffled off for charity; this year it was the American Heart Association (can't remember if that's what it always is, or if it changes). Starting in the fifth inning and continuing every half inning, a special Star Wars movie unfolds on the big screen scoreboard. It takes place at the ballpark and includes the Bisons mascots, etc. The story concludes after the game is over... on the field with an epic lightsaber battle!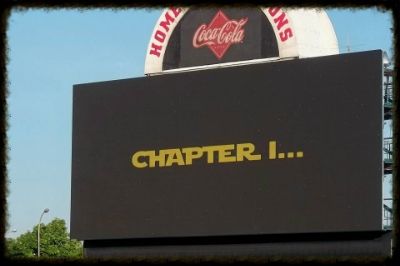 There are always other fun little touches that go on throughout the game:
The grounds crew usually has some fun on the field: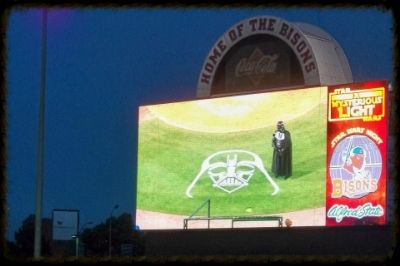 One of the characters throws out the first pitch:

Instead of showing each player's picture on the scoreboard, a villain is shown for the opposing team and one of the heroes is shown for the Bisons. The box score will also show the opposing team as "Sith":

Darth Vader will lead everyone in singing "Take Me Out to the Ballgame":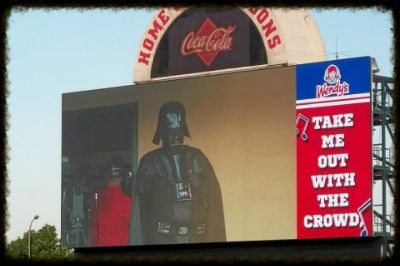 There are also lightsabers for sale during the game and once the game is over, the lights get turned out and everyone waves their lightsabers around. After the on-field battle, there is a fireworks display.
I wasn't able to get a good picture, but the moon was out through most of the game and it looked an awful lot like the Death Star! Unfortunately, the Force was not strong with our team last night as we lost to the Sith. But it was an amazing time and I can't wait to go back next year!