My decorations have been up for about a week now. I just love looking at them. People think I'm crazy, but it's so much fun to me to put them up early. Besides, if you wait then you have less time to look at them! Here are some pictures of my Christmas happiness. It may be a one-bedroom apartment, but I like to think of it as a cozy cottage. *giggles*
I love Christmas trees. They make me all kinds of happy! I actually have three of them... this is my regular one and it has both old and new ornaments as well as ones made by my sweetie-pie niece. They aren't as smooshed together as this picture would make it look. I put some of those Scentsicles on it that I posted the other day and I love getting a whiff of douglas fir! Putting the lights on it was quite an adventure. I think I probably need a second set, but I didn't have the patience or desire to go buy more. I also have a pink tree with silver ornaments that sits out on my landing and a small tree with Star Wars ornaments!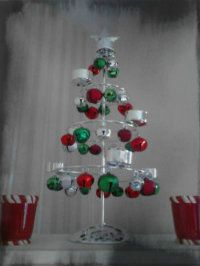 This is my jingle bell tree that sits on top of my rustic looking corner shelf. The tree was a gift and it just screams Fa La La La La to me. The little red candle holders were also a gift. Just a note that this shelf just might be one of my favorite things. I bought it at a craft show last September and the police wouldn't let cars down the streets where the show was being held. Which means I had to carry it through the streets of town to get it to my car! Luckily, it was a two-piece shelf. Not so luckily, my car was parked about a gazillion miles away. Hilarious. Not really. But it was well worth it, because it is perfect.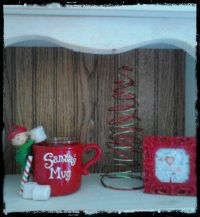 I just bought this little Santa Mug at Hallmark last week. It's actually a candle holder and I think it is too cute for words. I made the spiral Christmas tree using red and green floral wire (that I bought at Dollar Tree!) and wrapped them around a styrofoam cone (also a Dollar Tree purchase). I originally saw the idea online, and I'll see if I can find the source. The little red frame was a Michaels dollar bin purchase and I put a little piece of Christmas-themed scrapbook paper in it. (And if you can't tell, I've been having fun playing around with the editing options on photobucket. I love all the borders and fun stuff you can add to your pics! It's also nice that they have a mobile app that lets me take cell phone pics and upload them right to my album.)
I love this snow globe that my niece colored for me. I bought it at Hobby Lobby when I was visiting in San Antonio and she happily decorated it. She even added the "I love you" all by herself. My little Peanuts ornaments are a set from Hallmark that I bought as individual pieces about ten years ago. Love me some Snoopy! That little book on the bottom shelf is an ornament version of A Cup of Christmas Tea, which is such a sweet story. It goes well with the pine cone teacup candle holder that I bought at Yankee Candle last year. The tea canister is a permanent fixture on my shelf and the framed picture is actually a printable Christmas scripture that I found here.
If you posted pictures of Christmas decorations, I would love to see them! Post your links in the comments section. I've linked up to Bernideen's Open House Blog Party (It's all about Christmas decorations this week!) as well as the Home Sweet Home linky party. And if you're looking for some Christmas inspiration, check out my Christmas-themed board on Pinterest.
Happy One Month Til Christmas Eve!!!