I can't believe it's been six weeks already since I left for my amazing solo trip to Walt Disney World! Oh my gosh, I miss it SO MUCH!!!! I had such an amazing trip in such a short time!
I'm going to do a four-part best-of series of posts about my trip... one post for each park. My plan is to list my top five favorite things from this trip that happened in each park. I have an ongoing, in-depth trip report that I'm writing over on the Dis boards. If you're interested in reading that, you can check it out by clicking right here!!.
Here is what my schedule looked like:
Sunday, Feb 23 -- EPCOT
Monday, Feb 24 -- Disney's Animal Kingdom
Tuesday, Feb 25 -- Disney's Hollywood Studios
Wednesday, Feb 26 -- Magic Kingdom
No, it was not nearly enough time to do everything I wanted. But I had SO MUCH FUN. I'm hoping to be able to go for Christmas in 2015. We'll see what happens. I'm still in full-on Disney mode and I never want to lose this feeling. So without further ado, I present my EPCOT Top Five!
#5: Lunch at Sunshine Seasons
This could be because it was my first experience on the Disney Dining Plan. It could just be that I was really hungry. Who knows?! But I had a delicious turkey and Monterey Jack sandwich on focaccia bread with strawberry shortcake for dessert. That dessert was ah-mazing!
#4: My First Pin Trade. Ever!
When my sister and her family went to WDW last year, she said my niece really got into the pin trading thing and she thought I would enjoy it as well. So she got me a pin set with the instructions that I could keep some of them, but I had to trade some too. So my first pin trade was actually also at Sunshine Seasons. They had a board out, and I picked a cute Princess Tiana pin. Now I am totally addicted!
#3: The American Adventure
This was my first experience with the show inside the United States pavilion and I'm glad I didn't skip it! I'm not a huge history buff, but I do enjoy it. And I'm definitely an American patriot! So this was really awesome for me.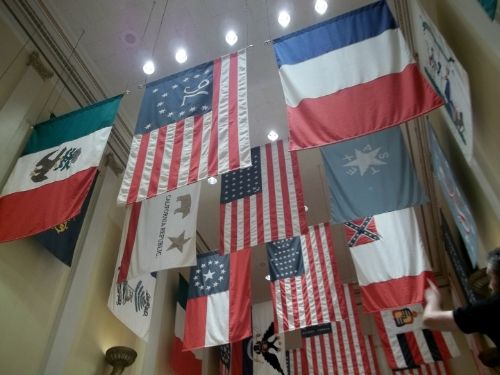 #2: Soarin'
I got to experience the new FP+ system on this trip, and I liked it a lot. I never would have been able to show up at Epcot in the early afternoon and go on Soarin' without it. So YAY!!! This is one of my favorite rides and it didn't disappoint! I love the orange grove scent and the feeling of... well... soaring!
#1: Duffy the Disney Bear
I wanted to meet a lot of characters on this trip, and the first one I met was Duffy. I had no clue who he was, but the line was short so I popped into it. Before you actually get to see Duffy, there are storyboards explaining who he is. I totally fell in love!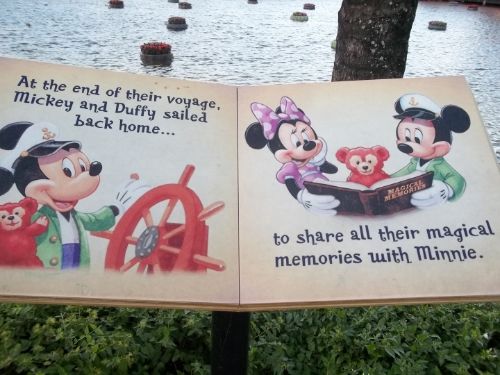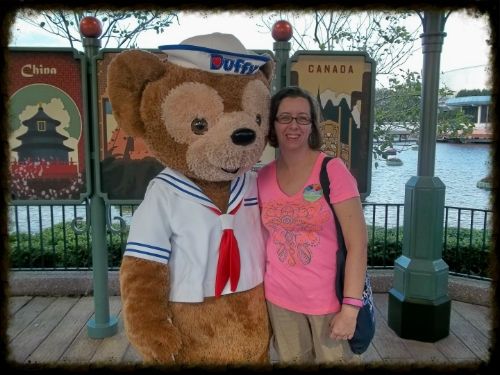 What is your favorite thing about EPCOT?